The APAP board or directors are APAP members who work on behalf of members of the Association of Performing Arts Professionals. The APAP board envisions the future of the association and the development of long-range goals and strategic priorities.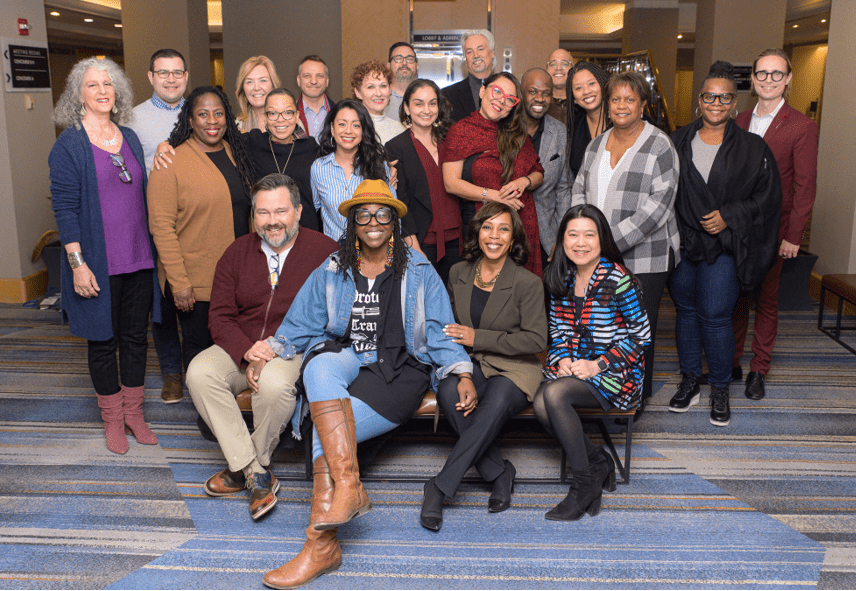 Board Members
APAP's board aims to reflect a range of perspectives based on a diverse set of expertise, experiences, region, function, sectors and cultures. To reach a current member of the board please email executive at
executiveoffice@apap365.org
.
The current members of the board are:
Renae Williams Niles, Board Chair
Chief Content and Engagement Officer, Los Angeles Philharmonic
Board Member through January 2023
Renae Williams Niles has worked in the arts and non-profit sector for over 25 years including roles such as dance company manager, grantmaker, presenter, educator, moderator, consultant and guest curator. She has served as Director of Grant Programs for the Los Angeles County Arts Commission, Vice President of Programming for The Music Center, Chief Operating Officer/Associate Dean of Administration for the USC Kaufman School of Dance and Executive Director for an education foundation. Recently, Renae served as an advisor to the New England Foundation for the Arts' National Dance Project. She is an adjunct professor teaching the Performing Arts Management and Presenting course for Claremont Graduate University. As a leader in the field, she has served as an advisor, grant review panelist and anonymous nominator for regional and national foundations and also for government agencies.

Renae served in several capacities during her 13 year tenure on the Western Arts Alliance (WAA) Board of Directors including chairing the conference and governance committees as well as various officer positions including Treasurer, Vice President and President. She was also previously on the Dance/USA Board of Trustees and is a current board member of American Dance Movement. Renae has been an active member of the Association of Performing Arts Professionals since 1995 and also served on their Innovation Lab team as well as the Board's Executive, Governance, Conference and Finance committees. She is the recipient of the 2017 Service to WAA and the field Award.
Michael Reed, Vice Chair
Senior Director of Programs anad Organizational Initiatives, ASU Gammage
Board Member through January 2024
Michael Reed has worked with ASU Gammage since retiring in 1995 from an international dance career. Mr. Reed oversees programming for ASU Gammage and ASU's Kerr Cultural Center Kerr, cultural participation/education programs, as well as all fiscal, artistic, marketing, administrative, personnel, and physical plant for the Kerr Center. Recently awarded the Western Arts Alliance's Leadership Award, Michael has served as a board member for Western Arts Alliance, co-chair for the Association of Performing Arts Presenters annual conference (APAP), a Hubsite and Advisor for the National Dance Project, a British Council showcase delegate – Edinburgh Fringe Festival, and a panel speaker for The Australian Council for the Arts, The Canada Council for the Arts, Association of Performing Arts Presenters, The Broadway League and Dance/USA. Mr. Reed is an active member of the Broadway League and serves on that organizations conference planning committee. Michael has presented Tanztheater Wuppertal Pina Bausch, Philip Glass, Bill T. Jones, Orquesta Sinfónica Nacional de Mexico, The Bolshoi Ballet, Anne Bogart/SITI Company, Eiko & Koma, Batsheva Dance Company, Chekhov International Theater Festival, The Israel Camerata, Daniel Bernard Roumain, The Apple Hill String Quartet, El Teatro Campesino (Luis Valdez), and many other artists. In his work at ASU Gammage he has also commissioned original scores by Kareem Roustom, Quetzal Guerrero, Daniel Bernard Roumain, and Paul Dresher. His programs have been the recipient of awards from The Met Life Foundation, 100 Black Men, and The Arizona Department of Commerce.
Daniel Bernard Roumain, Vice Chair
Artist/Educator
Board Member through January 2024
Daniel Bernard Roumain's acclaimed work as a composer and a performer has spanned more than two decades, and has been commissioned by venerable artists and institutions worldwide. Proving that he's "about as omnivorous as a contemporary artist gets" (The New York Times), DBR is perhaps the only composer whose collaborations span the worlds of Philip Glass, Cassandra Wilson, Bill T. Jones, Savion Glover and Lady Gaga.

DBR made his Carnegie Hall debut in 2000 with the American Composers Orchestra performing his Harlem Essay for Orchestra, a Whitaker commission. He was the first artist to be awarded Arizona State University's prestigious Gammage Residency, "a three-year commitment to an extraordinary performing artist that includes performance, creative time and resources, intensive training for ASU students and local artists and engagement with many of the local communities." His outreach and residencies have garnered extravagant praise and long-term relationships with countless universities, orchestras, and performing arts centers including the Berklee School of Music (Boston), More Music @Moore (Seattle), The Academy – a program of Carnegie Hall, The Juilliard School and the Weill Music Institute, PACE University and the Tribeca Performing Arts Center (New York City), the University of North Carolina (Raleigh) and Vanderbilt University (Nashville).

DBR is currently working on We Shall Not Be Moved, a new chamber opera commissioned by Opera Philadelphia, Meditations for Raising Boys, a new oratorio commissioned by Chautauqua Symphony Orchestra, and BOUNCE: A Basketball Opera in 4 Quarters, commissioned by Ardea Arts. DBR is represented by Sozo Artists and Opus3 Artists, and lives in Harlem, New York City.
Francine Sheffield, Secretary
Owner, Sheffield Global Arts Management
Board Member through January 2026
Francine Sheffield started her dance career in New Jersey, where she was born and raised. She went to Montclair State University where she received her BFA in dance performance. Francine has performed with choreographers such as H.T. Chen, Wendy Perron, Amy Pivar, Marlies Yearby and Baraka De Soleil. She was a company member of Urban Bush Women under the leadership of Jawole Willa Jo Zollar for 6 years, where she traveled and performed all over the world. Francine pursued and received a MA in Performing Arts Administration from New York University, where she interned at IMG Artists as a Dance Division Representative in New York and ADAD (Association for Dance of the African Diaspora) as the Audience Development Specialist in London, England. She also studied abroad in Uganda, East Africa, for a cultural exchange of learning and teaching dance to underserved children. Francine then went on to work as Artist Representative for Pentacle, where she booked engagements for emerging dance companies. With her knowledge of dance and skills in arts administration, Francine decided to start her own arts management company, Sheffield Global Arts Management in 2014.

As an APAP exhibitor, Francine was selected for the Emerging Leadership Institute, class of 2013 and was a recipient of the inaugural scholarship, APAP|NYC Participation Assistance Fund for the 2016 conference.
Anna Glass , Treasurer
Executive Director, Dance Theatre of Harlem
Board Member through January 2024
Anna Glass has been involved in the performing arts as both an artist and arts administrator for over twenty-five years. She currently serves as the Executive Director of the Dance Theatre of Harlem, recently named an "American Cultural Treasure" by the Ford Foundation. Together with Artistic Director Virginia Johnson, Anna co-launched a collaborative initiative addressing racial inequity in ballet – The Equity Project. In May 2013, she began her own endeavor dedicated to preserving and documenting the legacies of prominent Black artists and cultural institutions, and reinterpreting those legacies onto multiple platforms, including live performance. She recently produced Carmen de Lavallade's newest solo show Carmen de Lavallade: Life of a Legend for Jazz at Lincoln Center and prior to that As I Remember It– an intimate portrait of this legendary artist, which toured across the country.

Anna has also served a consultant providing strategic planning and fundraising guidance to various non-profit arts organizations across the country and has served as an advisor for the DeVos Institute of Arts Management supporting New York City non-profits.

Anna served one term on the APAP Board from January 2014 to January 2017, and currently serves on the 2020-2021 TONY Nominating Committee. Anna received her undergraduate degree from Oberlin College and her JD from the University of Dayton School of Law. She is also a licensed attorney in the State of New York. Anna lives in Harlem with her husband and their daughter.
Alicia Adams, At-Large
Vice President, Dance and International Programming, The John F. Kennedy Center for the Performing Arts
Board Member through January 2024
Alicia B. Adams is the Vice President of International Programming and Dance at the John F. Kennedy Center for the Performing Arts. She joined the Kennedy Center in 1992.

Adams curated the Center's major international festivals: IRELAND 100: Celebrating a Century of Irish Arts and Culture (2016), IBERIAN SUITE: Global Arts Remix (2015), Nordic Cool (20130, maximumINDIA (2011), ARABESQUE: Arts of the Arab World (2009), JAPAN! Culture + Hyperculture (2008), the Festival of China (2005), African Odyssey (1997-2000), AmericArtes (2000-2003) among others. Additionally, she curates the World Stages Series and Contemporary Dance series.

Adams has worked in the field of arts management for arts institutions including Alvin Ailey American Dance Theater, Belafonte Enterprises, Inc., New York City Center Theatre, Harlem School of the Arts and International Production Associates (NYC).

She serves as a Trustee of the Williamstown Theater Festival, International Society for the Performing Arts(ISPA), Founding Council of the Caine Prize for African Writing (UK), Africa 95 (UK), and on the Advisory Council for Lab Think Tank, Global Performance and Politics Georgetown University. She is a member of the Conference Committee for Association of Performing Arts Presenters(APAP); Advisory Council, American Dance Abroad and Advisory Committee for Harlem School of the Arts. Adams has also served as a Trustee of the All Roads Film Festival, National Geographic and; as a panelist for National Dance Panel, and Center Stage, New England Foundation on the Arts(NEFA). In 2017 she co-hosted the ISPA Congress(NYC) and curated the American Dance Platform, the Joyce Theater(NYC).

Adams has an MA from Columbia University, a BS from New York University and a Certificate in Arts Administration from Harvard University's School of Business Administration. Adams was the APAP recipient of the Fan Taylor Award in 2012. In 2014, she was decorated by Sweden with the Royal Order of The Polar Star and by Finland with Knight, First Class, of the Order of the Lion.
Beth Macmillan, At-Large
Executive Director, Artown
Board Member through January 2024
Beth Macmillan joined Artown as Festival Manager in February 2001 and was promoted to Executive Director in November of 2003. Macmillan, formerly a professional dancer and actress expanded into arts administration through various roles such as Production Company Manager, Public Relations Manager, Assistant Stage Manager, Founder and Owner/Director of a small, highly successful arts education business, Executive Director of a major dance organization and business owner and distributor.

Macmillan thrives in a fast paced work environment while managing a wide range of responsibilities. As Executive Director she has produced Artown events, created "out of the box" approaches and strategic partnerships to presentations, co-presentations and future Artown commissions. Currently, Beth has expanded her commitment to the Arts with a recent two-year appointment as President of the Western Arts Alliance (WAA), a membership association of performing arts professionals throughout the western states and provinces.

Macmillan was awarded Woman of Distinction and Woman of Achievement in 2009. She has made several presentations about Artown regionally and nationally including Arts Presenters, California Travel & Tourism Commission, Nevada Travel and Tourism, World Choir Games, and several regional service organizations. In 2016 Beth was presented an award from The Economic Development Authority of Western Nevada (EDAWN) for exceptional leadership.
Aisha Ahmad-Post
Executive Director, Newman Center for the Performing Arts, University of Denver
Aisha Ahmad-Post is the Executive Director of the Robert and Judi Newman Center for the Performing Arts at the University of Denver, helping to raise the organization's profile as a dynamic space to see marquee names and rising stars from a variety of genres and perspectives. She was the inaugural Director of the Ent Center for the Arts at the University of Colorado Colorado Springs where she established the center as a fixture of the local arts community, bringing many touring acts into the city for the first time. Earlier in her career, Ahmad-Post served as the Producer of Public Programs for The New York Public Library, and before transitioning into the nonprofit sector, she held positions at Columbia Artists Management and Barrett Vantage Artists. Ahmad-Post received her bachelors and masters from the Indiana University Jacobs School of Music. She is an alumna of Cohort IV of the APAP Leadership Fellows Program as well as the Jacobs Pillow Dance Presenters Forum. Ahmad-Post was appointed by Mayor Michael Hancock to the Denver Commission on Cultural Affairs in 2021.
Lulani Arquette
President and CEO, Native Arts and Cultures Foundation
Board Member through January 2024
T. Lulani Arquette is Native Hawaiian and the President/CEO of the Native Arts and Cultures Foundation (NACF); a national nonprofit dedicated to supporting the diversity of artistic expression in American Indian, Alaska Native and Native Hawaiian communities.

Under her leadership the foundation launched in 2009 and has been successfully operating since that time providing support to artists, organizations, and communities. Arquette brings over 30 years of professional experience leading organizations to their highest creativity and potential through strategic visioning and planning, innovative program development, building valuable relationships in community and developing funding partnerships across sectors.

Before coming to the Foundation, Arquette worked in Hawai`i with Native Hawaiian organizations in the nonprofit, public, and private sectors. She was instrumental in developing the first for-profit subsidiary of ALU LIKE, Inc., the largest multi-service organization in Hawai`i serving Native Hawaiians. With a strong interest in leadership development, she created the Hawai`i Leadership Center, a unique leadership program for executives and managers, that looked at leadership through the lens of three distinct ethnic groups – Hawaiian, Asian and Caucasian. She earned a master's degree in political science and has been an advocate for Native self-determination and social justice.

Holding a second degree in drama and theatre from the University of Hawai`i, she has performed and participated in stage productions, television shows, and film projects. Arts and cultures has always played a strong role in her personal life and professional development, and she greatly admires her grandmother who was an accomplished musician and singer.

Public service and giving back are part of Arquette's passion. She is currently a board member for Grantmakers In the Arts, and past board service includes the National Insight Center for Community Economic Development, Hawai`i Capitol Culture District, Organization of Women Leaders and the Council for Native Hawaiian Advancement.
Mercedes Caxaj
Head of Programs, Small World Music & Artistic Co-Director, Sunfest-London Committee for Cross Cultural Arts
Board Member through January 2025
For the past decade, Mercedes has been the Artistic Co-Director for Sunfest-London Committee for Cross Cultural Arts, which presents thoughtful, innovative global arts programming in London, Ontario. She is also now Head of Programs for Small World Music which produces the music conference, Global Toronto, and the Emergence Music Incubator, which showcase and support culturally diverse artists and partners in Toronto, Ontario. Mercedes has grown her career within the realm of arts and cultural work by contributing to the success of a range of arts and non-profit organizations and festivals across southern Ontario — and is responsible for logistics, development and partnership building, marketing and branding, as well as scouting and programming artists.

In addition, Mercedes has served as a jury member and panelist for both national and international music meetings, conferences and major granting agencies where she discusses artistic programming, community program development, cultural advocacy and strategy, and prioritizing representation. In 2019, Mercedes was awarded the Contributor of the Year Award from the Forest City London Music Awards for her work in the London music scene and has continued to serve as a contributing member of the City of London's Business of Music Committee, prioritizing programming with a focus on intersectional representations, all while also serving as a board member of Tourism London.

Born in London, Ontario, Mercedes' family first came to Canada as refugees from Guatemala. Over the years Mercedes has studied and worked in France and holds a Master of Arts in French Studies from the University of Waterloo with a post-graduate diploma in marketing communications from Conestoga College, and is fluent in English, Spanish, and French.
Eddie Cota
Director of Brands and Partnerships, Universal Music Group and Founder, Champion City
Board Member through January 2024
Eddie Cota is an arts and cultural strategist in Los Angeles, and founder of creative marketing agency Champion City. Over the past 12 years, he has developed some of the most innovative programs with brands, nonprofits, and festivals that have shaped the cultural landscape of the city.

His career started in radio marketing for pop station 102.7 KIIS-FM in 2006, and was later recruited by the first bilingual radio station on the West Coast, Mega 96.3. Mega represented a new frontier of marketing to a bilingual audience, which paved the way for several new media networks that wanted to reach the crossover Latino demographic.

In 2008, he became Artistic Director of the Levitt Pavilion for the Performing Arts in Pasadena, a non-profit dedicated to providing free access to the arts in underserved communities through a summer concert series. He also acquired programming responsibilities for sister organization the Levitt Pavilion MacArthur Park in 2010. Over the course of six seasons, Cota programmed 500 total concerts that served an audience of more than 600,000. The LA Times profiled Cota in both 2011 and 2012 for his innovative multicultural programming that made both Pasadena and MacArthur Park cultural destinations in Los Angeles. The program was recognized nationally as a musical tastemaker for breaking emerging talent and giving international artists their U.S. debuts. To this day, several artists that were seen at the Levitt Pavilion first are being discovered by major festivals and PAC's, and winning Grammy Awards.

His work at the Levitt Pavilion led to energy drink Red Bull hiring Cota as a consultant to lead their new Hispanic marketing initiatives and develop more music programs. In 2013, he became the Cultural Programmer of creative agency Imprint Projects, where he developed cutting-edge programs and content platforms for clients such as Sonos, Levi's, Virgin, Moog, Google and more.

In the Fall of 2015, Cota founded creative marketing agency Champion City to focus on clients that are interested in making a cultural, social, or creative impact through the arts. In 2017, he was recognized as one of CSQ Magazine's NextGen Top 10 leaders in the category of "philanthropy, arts and culture."
Mario Garcia Durham
Immediate past President, APAP
Prior to his leadership role with APAP, Mr. Durham was at the National Endowment for the Arts (NEA) where he served as Director of Artist Communities & Presenting from 2004 – 2011. At the NEA, Mr. Durham contributed to programs such as the NEA Opera Honors and An Evening of Poetry, hosted by the President and Mrs. Obama. He inaugurated the NEA's Artist Communities granting program and was the initiator of Live from Your Neighborhood, a groundbreaking study of the impact of outdoor arts festivals in the U.S. After holding numerous management positions and serving as artistic director at the Yerba Buena Center for the Arts in the 1990s, in 2000 he founded Yerba Buena Arts & Events, the producing organization of the annual Yerba Buena Gardens Festival. The outdoor event offers more than 100 free performances by the San Francisco Opera, the San Francisco Ballet and more for an audience of 100,000 attendees.
Karen A. Fischer
Founder and Director, Pasifika Artists Network
Board Member through January 2024
Karen A. Fischer founded Pasifika Artists Network in 2009, the only agency in Hawai'i promoting national and international touring for the performing arts of Hawai'i and the Pacific. The Pasifika roster reflects traditional and contemporary performing arts in music, dance, and spoken word. Prior to launching her agency, she was President & CEO of the Maui Arts & Cultural Center (MACC), a multi-disciplinary presenting and arts education organization, having previously served as its managing director (1998-2009); among other accomplishments, she created and directed the MACC's presenting program for 10 years. With over 30 years of national arts management experience, Karen's background ranges from presenting and community-based organizations to fundraising, finance, strategic planning, and marketing. Before joining the MACC, she was at Cal Performances, University of California, Berkeley, Yerba Buena Center for the Arts in San Francisco, The Joffrey Ballet in New York/Los Angeles, and the Metropolitan Opera in New York. She is active in the field, serving on boards (Academy of Hawaiian Music, and previously, Maui Academy of Performing Arts, Western Arts Alliance, Performing Arts Presenters of Hawai'i, Hawai'i Association of Music Societies) and peer review panels (National Endowment for the Arts, State Foundation for Culture and the Arts, Hawai'i Tourism Authority). Her career included dancing with Aman Folk Ensemble in Los Angeles.
Jamie Grant
Grant Management Group
Board Member through January 2025
Jamie Grant has been a leader and innovator in the performing arts for more than three decades. Described as a "numbers guy" with a focus on the big picture and metrics; combined with the passion for great work and a love of fundraising to make it happen. He was recruited to join the McCallum Theatre as President and CEO during the pandemic and prepared the institution for re-opening with an emphasis on safety protocols and investments; donor relations; and changing the corporate culture. The Theatre was one of the few in the country to refund 100% of ticket sales for postponed and cancelled performances.

Jamie was the President and CEO of Ordway Center of the Performing Arts in Saint Paul, Minnesota. The Ordway, recognized as one of the United States' leading not-for-profit performing arts centers, is home to a wide variety of performances throughout the year that encompass the finest in American musical theater, world music, dance, and vocal artists in its Music Theater and its Concert Hall. Ordway is home to the Flint Hills International Children's Festival, one of the top festivals of its kind in America. Under Jamie's guidance, the organization implemented a strategic plan that focuses on diversity, equity and inclusion, community engagement, sustainability, and telling the unique Ordway story.

Prior to arriving in the Twin Cities, Jamie was the President and CEO of the Long Center in Austin, Texas. He was hired following an international search to develop a sustainable operating plan for the performing arts center. The Long Center opened in 2008 to great acclaim, but without a clear plan to meet the very high expectations set for it. It is a complex organization with many competing interests. Jamie began work in September 2011 and has transformed the organization. Following four years of shortfalls (the facility opened with seven figure deficits) Long Center had three consecutive years with six figure operating surpluses and a dramatic increase in attendance (all done without any operating subsidy). The Long Center has become a focal point in Austin.

For 13 years Jamie was the general manager of the Centre in the Square in Kitchener, Ontario, an award-winning multi-purpose performing arts center with a main hall of 2000 seats, plus an art gallery and studio theatre. During his tenure at CITS the venue became and remained debt and deficit-free, with working capital and an endowment fund. Jamie has accomplished the rare feat of opening many new performing arts centers, including Imperial Theatre in Saint John, NB, Heritage Theatre in Brampton, ON, Skylight Theatre in Toronto and was the founder and Producer of Theatre Malton.

Jamie is a founding member of Canada's National Theatre Festival - Magnetic North Theatre Festival, and served as Chairman of the Board; he helped to found eye-GO to the Arts, a program designed to encourage youth to attend the performing arts and was the founding Chair (eye-GO, which began in Kitchener-Waterloo has now become a national program in Canada and is also a success in many States in the US); he helped to found the organization that became the Atlantic Presenters Association (APA); he is Past-President of CAPACOA (Canadian Arts Presenting Association) and Ontario Presents; he is the founding Chairman of the Board of the Alliance for a Grand Community (a unique multi-disciplinary alliance of the leading arts organizations in the KW area); and he was instrumental in developing a block booking model which is used throughout Canada today.

Community service is a hallmark of Jamie's leadership, and he was the Treasurer of the Minnesota Citizen's for the Arts, served on the Boards of Texas State Arts Board, Canada's Technology Triangle, Creative Enterprise, and Grand River Hospital Foundation. Jamie was an active member of the Broadway League, is a current member of the national board of Association of Performing Arts Professionals (APAP). An adjunct lecturer at the University of Waterloo, Jamie taught for almost a decade for the Centre for Cultural Management and is a regular lecturer, panelist and guest speaker for other universities, colleges, and professional conferences.

Chris Harrington
President & CEO, The Ordway Center for the Performing Arts
Board Member through January 2024
Christopher L. Harrington currently serves as the Detroit Symphony Orchestra's (DSO) Senior Director of Jazz and @ The Max. A native Detroiter with a passion for connecting people through arts and culture, Harrington has a successful track record in audience development, revenue generation strategy, and intrapreneurship. In his current role, Harrington is responsible for programming and marketing local, national, and international talent and ensuring a sustainable business model that attracts and retains new audiences. He also oversees rentals, front of house, retail, and catering operations at the DSO's Max M. and

Marjorie S. Fisher Music Center, a 135,000-square-foot community gathering place with four unique venues.

Before joining the DSO, Harrington was Marketing Manager at the Detroit Jazz Festival, where he led all marketing, public relations, and new media initiatives. He has also worked in public relations and membership services for WDET-FM, Detroit's NPR station.

Harrington holds a Master of Business Administration and a Bachelor of Music from Wayne State University (Detroit). He recently completed National Arts Strategies' eight-month Executive Program in Arts & Culture Strategy, a partnership with the University of Pennsylvania.

Harrington is a mentor in Wayne State University's Mike Ilitch School of Business Corporate Mentor Program and a member of the Detroit Young Professionals executive team. He has served on grant review committees and as a panelist at national conferences. In his personal life, Harrington enjoys spending time with family, watching sports, and traveling to music and arts festivals around the world.
Lane Harwell
Program Officer of Creativity and Free Expression, Ford Foundation
Lane Harwell (they/he) is a nonprofit and philanthropic leader working to advance mission-driven organizations on the frontlines of social change.

Currently a Program Officer of Creativity and Free Expression at Ford Foundation, Lane manages a national grants portfolio focused on the intersection of arts and culture, civic engagement, and justice. They are responsible for Disability Futures, a fellowship program to advance disabled artists and journalists; and Reclaiming the Border Narrative, a storytelling and archiving effort to strengthen immigrant rights. Lane also co-manages America's Cultural Treasures, Ford's transformational initiative to advance Black, Indigenous, and people of color arts organizations nationally and increase giving by other donors and foundations. This program was launched in 2020 and has raised $276 million in pooled funds.

Prior to Ford, Lane was the Executive Director at the advocacy and service organization Dance/NYC. They founded Dance/NYC as an independent nonprofit in 2012 and grew it from the ground up to serve more than 1,200 dance makers and companies.

Lane's professional and educational background encompasses creative, business, and civic realms, including an MA in Performance Studies from UC Berkeley, an MBA from Columbia Business School, and an early career as a ballet dancer. They trained at School of American Ballet and San Francisco Ballet and performed with American Ballet Theater Studio Company.

Lane currently co-chairs New York Grantmakers in the Arts, a peer network of grantmakers. They are past chair of the Steering Committee for the New York Dance and Performance Awards and the Arts Committee of the Municipal Art Society.

Lane identifies as white, queer, disabled, and nonbinary, and is committed to anti-racism and elevating issues of diversity, equity, and inclusion.

Christopher Heacox
Executive Director, Jay and Susie Gogue Performing Arts Center, Auburn University
Board Member through January 2025
Christopher J. Heacox is the Executive Director of the Jay and Susie Gogue Performing Arts Center at Auburn University, opening in August 2019. As Executive Director, Mr. Heacox has overseen the construction of the performing arts center since groundbreaking. He leads the artistic and administrative direction of the Gogue Center in bringing world-class performances and educational experiences to Auburn University and the surrounding communities. Prior to his appointment at Auburn University, Mr. Heacox served as the Executive Director of Opening Nights Performing Arts at Florida State University.

Mr. Heacox is the Immediate Past President of the Florida Professional Presenters Consortium. This fifty-plus member organization is charged with elevating the professional performing arts in the State of Florida. His board and organizational service includes the Council on Arts and Culture (Tallahassee/Leon County) Board of Directors, Tallahassee/Leon County Cultural Plan Review Committee, STAGE Committee for the Capital City Amphitheater, State of Florida Division of Cultural Affairs Strategic Planning, Leadership Jacksonville (class of 2011), and Opportunity Tallahassee. Mr. Heacox is a graduate of Florida State University (B.A. in Music) and the Eastman School of Music at the University of Rochester (M.M. in Jazz and Contemporary Media, Performance).
Amy Lam
Vice President, Tisch Music at 92nd Street Y
Board Member through January 2023
Amy Lam is the Vice President of Tisch Music at the 92nd Street Y, New York. In this capacity, Ms. Lam serves as the chief executive and primary spokesperson of one of the key program centers at the iconic cultural institution. She provides and articulates Tisch Music's long-term vision in alignment with 92NY's institutional goals, guides the center's artistic and strategic direction that aims to expand the artistic portfolio, deepen relationships with artists and patrons, and stimulate organizational growth.

Before joining 92NY in 2021, Ms. Lam served as the Artistic Director of the Celebrity Series of Boston. Under Ms. Lam's direction of over two decades, the programming palette of the Celebrity Series expanded beyond the tradition of presenting the world's finest classical artists to include a variety of disciplines such as new music, modern dance, contemporary folk music, speakers, theater and interdisciplinary productions.

Since 2008, Ms. Lam also served as a consultant to a wide range of cultural institutions. Recent projects include guest curation for American Dance Platform at the Joyce Theatre, NYC, project management and international relations for New England Conservatory, artistic planning for Milton Academy, strategic planning for Boston University Tanglewood Institute, among others.

Prior to joining the Celebrity Series in 1991, Ms. Lam held positions at Aaron Concert Management in Boston, MidAmerica Productions in New York City, and the Anderson Center for the Arts in Binghamton, NY.

Ms. Lam serves on the board of Association of Performing Arts Professionals. She was a member of the Artistic Committee for Music Accord, a national consortium of performing arts presenters dedicated to new music commissioning. She was also a board member of Dance/USA, Dover Cultural Council (MA), Soldiers Field Park Children's Center at Harvard Business School, Volunteer Lawyers for the Arts in Massachusetts and Boston Dance Alliance.

Ms. Lam holds an MBA in Arts Administration from Binghamton University of New York, and graduated from the Chinese University of Hong Kong with a BA in Music.

María López De León
Retiring President & CEO, National Association of Latino Arts and Cultures
María López De León is the President, CEO and board member of the National Association of Latino Arts and Cultures (NALAC). In January 2013, President Obama appointed Ms. De León to serve on the National Council on the Arts. In 2012 and 2013, Ms. De León was named among the nation's Fifty Most Powerful and Influential People in the Nonprofit Arts.

Ms. De León has been with NALAC for twenty-two years and has served as President and CEO for five years and Executive Director for nineteen years. Ms. De León has been involved in all aspects of development and implementation of the NALAC programs and strategic initiatives. Under her leadership, NALAC developed and launched four grant programs including the NALAC Fund for the Arts (NFA), a grant program for Latino artists and organizations; the Catalyst for Change, a grant program for artists whose work focuses on radical solutions to achieve racial justice; the Actos de Confianza, a pandemic emergency relief grant for artists and organizations; the Transnational Cultural Remittances (TCR), a grant program for artists and organizations in the U.S., Mexico and Central America; She has directed the continued development of twenty editions of the renowned annual Leadership Institute and ten convenings of the Advocacy Leadership Institute in Washington, DC; co-founded the Intercultural Leadership Institute; directed the convening of eight NALAC National Conferences and twenty-nine Regional Arts Training Workshops across the country.

Ms. De León is an arts administrator and cultural practitioner dedicated to strengthening communities through the arts and has multiple years of experience working with Latino artists and arts organizations. She serves on multiple arts and culture policy panels and is a noted speaker and advocate for the arts, cultural equity and social and economic justice. Ms. De León serves on the National Council on the Arts and on the boards of the First People's Fund, the National Assembly of State Arts Agencies, the National Hispanic Leadership Agenda, the Performing Arts Alliance, the Lewis Prize for Music and the United States Department of Arts and Culture. She is an advisory council member of Women of Color in the Arts.

Stephanie McKee
Executive Artistic Director, Junebug Productions
Board Member through January 2024
Stephanie V. McKee-Anderson is an artist, organizer and cultural strategist born in Picayune MS and raised in New Orleans. She is the Executive Artistic Director of Junebug Productions, Inc. an organization birthed out of the Free Southern Theater (FST), which was formed in 1963 as one of many cultural arms of the Civil Rights Movement. FST would eventually be a tremendous influence on the BlackArts Movement. Mckee has a long history of creating powerful performances that she strategically leverages for social change. McKee is a 2018 Urban Bush Women Choreographic Fellowship recipient and under McKee's leadership, Junebug Productions was a recipient of a Surdna Foundation's Artist engaged in social change award for Homecoming Project, and the New England Foundation for the Arts (NEFA) Theater Project grant for Gomela to Return/Movement of Our Mother Tongue which was her directorial debut. McKee serves on the board and executive committee of National Performance Network, is a member of Alternate ROOTS, a 2007 New Voices emerging Leader alumnus, a 2015 Association of Performing Arts Professionals (APAP) Leadership Fellow and a Group Leader for the 2017 APAP Leadership Fellow Co-hort.
Jill Robinson
CEO & Founder, TRG Arts
Board Member through January 2024
Jill S. Robinson is a driving force in the arts and culture sector who has inspired leaders and organizations for more than three decades. From early career achievements with regional symphony orchestras to her leadership building TRG Arts (The Results Group for the Arts) into a renowned international, data-driven change agency, Jill's expertise and counsel are sought out by arts and cultural executives worldwide. Jill believes in the transformative power of arts and culture experiences, and that positive, profound change in the business model of arts organizations leads to artistic innovation that can inspire entire communities.

With Jill's leadership, TRG Arts has doubled in size, opened a location in the United Kingdom, and served more than 1,200 clients in the U.S., Canada, Australia, the U.K. and Europe. Under her guidance TRG Arts has developed the largest (and growing) global arts and cultural consumer dataset in the industry, the COVID-19 International Sector Benchmark. In 2020, TRG was named one of Colorado's Top 100 Women-Owned Companies by ColoradoBiz magazine, and was presented with the 2017 Create Award by Colorado Business Committee for the Arts.

Jill's strategic vision for TRG Arts has benefited prominent arts organizations from the Lincoln Center for the Performing Arts, the Alvin Ailey American Dance Theater and The Australian Ballet to the Museum of Popular Culture (MoPOP) in Seattle, Canada's National Arts Centre, and theatres and venues throughout the U.K., including Theatre Clywd, Sheffield Theatres and Nottingham Playhouse.

A sought-after speaker, Jill has delivered her insights at countless industry conferences, including keynotes at the UK Theatre Touring Symposium in London, the Broadway League Spring Road Conference in New York City, the Dance/USA International Dance Managers Conference in Copenhagen, and the annual Conference on Marketing in the Arts in Madrid and Barcelona. She is a trusted source for a wide range of media covering arts and culture issues, including The Wall Street Journal, Washington Post, Christian Science Monitor and Inside Philanthropy, among others.

Jill is an adjunct professor of the Master of Arts Administration/Master of Business Administration program at Southern Methodist University, Dallas, TX and an inaugural faculty member for the Banff Centre for Arts and Creativity's Cultural Leadership Program. She serves on the Advisory Board for SMU DataArts and has served on the board of the Cultural Office of the Pikes Peak Region in Colorado Springs, Colorado.

Murielle Borst Tarrant
Cultural artist, director, playwright
Board Member through January 2025
Murielle Borst-Tarrant (Kuna/Rappahannock) is an author, playwright, director, producer, cultural artist, educator, and human rights activist. Author of the fantasy series The Star Medicine, she studied at HB STUDIOS in New York City, studied and interned with Spiderwoman Theater, and is also a graduate of Long Island University. She works on the deconstructing of methods of the arts in Native communities in urban areas across the country, Canada, and in the New York City education system. She also consults with many urban and non-urban universities on the development of Native theater programming.

Nominated for the Rockefeller grant in 2001, Borst-Tarrant won a Native Heart Award and was the only Native American Woman to be selected by the Olympic Games in Sydney, Australia at the Sydney Opera House for her one-woman show, More than Feathers and Beads. She served as the Special Assistant and Liaison to Tonya Gonnella Frichner, the North American Regional Representative to the United Nations' Permanent Forum on Indigenous Issues, and served as Chairwoman for the Woman's Caucus for North America from 2013 to May 2014.

Borst-Tarrant directed Muriel Miguel, founder of Spiderwoman Theater in Red Mother nationally and internationally, and was the Keynote Speaker for the Indigenous Women's Symposium at Trent University. She was recently selected to speak on "Repetition, Tradition and Change: Native oral history and contemporary art practice in hostel post-colonial times" at the International Conference at the Muthesius Academy of Art in Kiel, Germany and the Norwegian Theater Academy. Named in American Theater Magazine as one of the most influential women in American Theater, Borst-Tarrant is the Artistic Director of Safe Harbor Indigenous Collective and consultant for La MaMa Experimental Theatre Indigenous Initiative. She has recently produced, written, and directed Don't Feed the Indians—A Divine Comedy Pageant! at La MaMa Experimental Theatre Club.

Beatrice Thomas
Consultant, Arts Equity Strategist, Artist
Board Member through January 2023
Beatrice Thomas is an arts equity consultant, multi-disciplinary artist, and creative producer whose social practice lies at the intersection of arts, equity and accountability. Thomas nationally advances the work of queer, trans and POC artists. And for nearly a decade, she has worked in a number of arts sectors in from Austin, TX to the San Francisco Bay, dedicating her career to philanthropy and professional development for individual artists. Previously she held senior and senior consulting positions at San Francisco Arts Commission, foolsFURY Theatre, and SAFEhouse Arts. She was an inaugural APAP Leadership Fellow, is an 2020 APAP conference co-chair and received her MFA from the University of Texas.
Lisa Richards Toney, Ex Officio
President and CEO, APAP

Lisa Richards Toney became President and CEO of APAP on July 1, 2020. She will work with the APAP board of directors and staff to address both the strategic vision of the organization and the immediate and emerging needs of the performing arts field in response to the COVID-19 crisis. Richards Toney brings more than 20 years of experience leading a range of small and large arts and humanities organizations, managing change and building stability.
Read more about Lisa here
.
Toby Tumarkin
Senior Vice President, IMG Artists
Board Member through January 2024
Toby Tumarkin is the SVP and Global Head of Artists & Attractions at IMG Artists where he directs the growth and management of IMGA's international shows, attractions, world music, jazz and Folk/Americana roster from the company's New York office. He also manages the development, co-production and representation of new projects under the IMG Artists Presents banner. Prior to joining IMG Artists in February 2016 Toby enjoyed a 17-year career at Columbia Artists Management and CAMI Music where he served as Executive Vice President.

Toby has represented more than a dozen Grammy®-winning and nominated artists and has been instrumental in introducing and expanding the reach of diverse musical genres to many theatres across the United States. Toby is one of the founders of NextGen (now WAA 35 Below), the Western Arts Alliance's program designed to foster relationships between young professionals in the performing arts. He is also a member of the inaugural class of the Association of Performing Arts Presenters' Emerging Leaders Institute. A native of New York City, Toby holds a Bachelor of Arts in Psychology from Vassar College and a Post-Graduate diploma in voice from Trinity College London.
Cristina Vázquez
Director, Contenidos Artisticos
Board Member through January 2023
In 2013, Cristina Vázquez founded Contenidos Artisticos, Produccion y Difusion A.C. in Mexico. Working in partnership with other performing arts and culture producers, she facilitates events and performances. To-date, these have included: the Jose Alfredo Jiménez International Festival (2012 & 2013); operas for the Teatro del Bicentenario (2011-2016); and performing arts programming for the State Institute of Culture of Guanajuato (Since 2013). Vázquez developed and staged the concept of the Urban Encounter: Todo sobre Ruelas (Everything of Ruelas) in the city of Zacatecas; and the Anniversary Parade of Leon, Guanajuato (2018). Since 2013, Vazquez has worked as a producer for the National Institute of Fine Arts and the National Dance Company, and since 2015 for the National Opera Company and the National Theater Coordination. Currently Vázquez is the acting producer of the international piano festival "en Blanco y Negro" at the National Center of the Arts (CENART).

Cristina Vázquez is a specialist in Cultural Management, certified by institutions such as the Secretary of Mexican Culture and the 17 Institute of Critical Studies. She received certification in Critical Thinking in Cultural Management (2013) and Cultural Management in Latin America (2005) from the 17 Institute of Critical Studies. Vazquez' achievements in arts and culture include: consultant for the Municipality of Zacatecas in the preparation of its cultural development plan (2010); National Book Fair (FeNaL) Coordinator (2006 – 2009); consultant for Hay (literary festival, 2009) Zacatecas; programmer of the Teatro del Bicentenario, Leon, Guanajuato (2010). In 2006 Vázquez graduated from the University UNIVER in her hometown of León, Guanajato with a BA of Arts, majoring in communication. She currently lives in Chicago.
Jacob Yarrow
Director, Green Music Center at Sonoma State University
Jacob Yarrow is executive director of the Green Music Center at Sonoma State University in Sonoma County, California. He oversees hundreds of annual activities including the presentation of performances by touring artists and hosting concerts by student groups and resident companies. Under his leadership, the Green has embraced the role of university presenter by prioritizing the support of artists, exploration of ideas, interdisciplinary approaches, and deepened engagement with Sonoma State students and the region's communities. He also serves a campus leadership role as a member of the Sonoma State Cabinet.

Prior to moving to Sonoma County in 2017, Jacob was programming director of the University of Iowa's Hancher Auditorium where he led creation of a multidisciplinary presenting season with 25-30 performances each year and a wide variety of education and artist residency programs, totaling over 100 annual activities. During his eight-year tenure, Hancher mostly operated as a presenter without a facility and used more than a dozen different performance spaces each year while a new performing arts center was planned and built. He programmed the first two seasons in the new Hancher Auditorium.

Jacob also worked as executive director of Garth Newel Music Center (where he founded the Virginia Blues & Jazz Festival), and as education director at the Association of Performing Arts Professionals in Washington, DC. He began his career as a touring musician and as a junior high music teacher. He holds degrees in music performance from the University of Michigan and University of North Texas. He lives in Petaluma, California with his wife Debbie. His daughters Grace and Ella are both in college.

Jacob has served on numerous grant panels, committees, and boards including the National Theater Project, Chamber Music America, and Any Given Child-Iowa City. He has been involved with a variety of APAP committees and projects throughout his career.

John Zion
Managing Director, MKI Artists
John Zion serves as the Managing Director of MKI Artists, one of the leading classical music management agencies in the United States where he directs the careers of a prestigious roster of artists, ensembles, and composers. He is also a co-founder of OurConcerts.live that produced and streamed more than 300 concerts during the pandemic and continues to provide access to live music to audiences around the world.

Also an active consultant, John works with artists, administrators, and arts organizations on career development, project management, and digital marketing. John serves on the board of Chamber Music America and has guest lectured and presented on arts-related issues at the Colburn School of Music, University of Michigan, Manhattan School of Music, Banff Centre, APAP|NYC, and Chamber Music America's National Conference. He was named one of the "Rising Stars in the Performing Arts" by Musical America in 2012 and received a BM in Violin Performance from the Hartt School of Music.
Roles and Responsibilities
Responsibilities of the Board of Directors
Board members are accountable for understanding, accepting and interpreting the philosophy and purpose of APAP to its members and other important constituencies. Board members are responsible for ensuring and maintaining an understanding of demographic, cultural, social, and economic trends nationally and internationally and their implications for APAP and the members. All board members will exhibit demonstrated expertise with cultural diversity as it relates to leadership development, programming and audience development.

In carrying out its major responsibilities, the board of directors functions in the major areas of: policy making; fiduciary stewardship of the organization, its mission and its members; helping to secure the organization's future by active engagement in fundraising; providing strategic leadership to oversee implementation of approved strategic direction and policies determined by the full board and carried out by staff; and acting as an enthusiastic ambassador on behalf of the organization to its membership and the larger community.
Responsibilities of the Board of Directors
Following a call for nominations from the membership, directors are elected for three year terms with option for election for up to two consecutive terms. Board members may serve a maximum of six consecutive years unless serving as an officer; in which case, an individual may serve up to nine years or three consecutive terms.
Board Alumni
The Board Alumni consist of past members of APAP's Board.

Ismael Ahmed

Judith Allen

Luis Alvarez

Neill Archer Roan

Maure Aronson

Caron Atlas

Tom Bacchetti

Larry Baza

Linda Brumbach

Neil Barclay

Neil Benson

Philip Bither

Michael Blachly

Lisa Booth

Nicole Borrelli Hearn

Murielle Borst-Tarrant

Ron Bowlin

Dianne Brace

Bill Bragin

Gwethalyn Bronner

Wende Cartwright

Kim Chan

Ann Cochran

Shelley Cohn

Laura Colby

Alvan Colon Lespier

Jean Cook

William Cook

Susan Coon

Janet Cowperthwaite

Jim Copenhaver

Shannon Daut

Jackie Davis

William Dawson

Carolelinda Dickey

Martha Dodson

Jay Doty

Alejandrina Drew

Aaron Dworkin

Duane Ebata

Cathy Edwards

Adrian Ellis
Sharon H. Moore

Lorna Myers

Halsey North

Don Osborne

John Patches

Jeff Parks

Jeanne Pearlman

Ira Perman

Lynne Peterson

Aimee Petrin

Georgiana Pickett

Robb Pocklington

Colleen Porter

Mary B. Regan

Malik Robinson

Pedro Rodriguez

Anna Rosenthal

Michael Ross

David Rousseve

Ralph Sandler

Anita Scism

Mikki Shepard

Susan Sheppard

Toni Sikes

Larry Simpson

Alison Spiriti

Susie Surkamer

Chuck Swanson

Ivan Sygoda

Terri Trotter

Tim Van Leer

Huong Vu

Evy Warshawski

Marianne Weems

Todd Wetzel

Jed Wheeler

Kendra Whitlock Ingram

Marty Wollesen

Johann Zietsman